03. 10. 2014
So here we are Eruv Yom Kippur, right before the big day, and I'm wracked with guilt. I'm desperately trying to go through the year in my head, and fix what needs to be fixed. Did I work it out with that person? Who did I offend this week on Facebook? Thank Gd I took that Facebook break. Did I return all unanswered emails? What about text? Man I suck at technology correspondence.
Its a never ending list and it has been driving into me since Rosh Hashanah. The desire to do better, to be better, to give Hashem something to be proud of. Crap I used not so nice words way too much this year, shit. The list feels never ending and it starts to pile on, big time.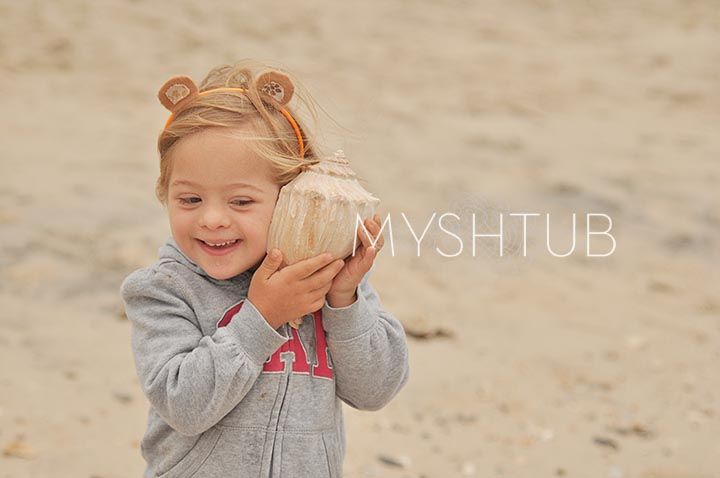 Today I decided I was done. I'm not sure if it was the quiet meditating time where I stare at the ceiling squares in my yoga class, or just a revelation, but I'm done. The truth is I upset people, we all do. I try not to, I try to hold my tongue and walk away, but it's not in my nature to walk away. I'm a shaker and mover, I have always been one. And shakers and movers upset people, a lot. So this year as a starred at the ceiling tiles, wondering if they have asbestos in them, I decided to stop the guilt,and most of all this year I'm going to forgive myself. I'm going to forgive myself for all the things I've done to disappoint myself. Because at the end of the day you cant forgive anyone else, or even apologize to anyone else until you've worked it out with your own self. Why has it taken me 40 years to figure that out? So this year I will be starting my year without be angry at myself for being sick and not pushing harder.
I will forgive myself for all the times I lost it with my kids, like really lost it. I'm going to forgive myself for eating all the garbage I have fed my body and not getting to the gym more. I'm sorry body I know gluten-free donuts are not healthy, even without the gluten eating the entire box is not ok. I'm sorry for beating myself up for getting the kids late to school almost everyday, and making coffee a priority over punctuality.
I'm sorry self for not being able to forgive some people. I really want to forgive them I really do , but the hurt is ground in deep. I'm trying, but I'm not going to be angry at myself about it anymore, I'm human not a emotionless cyborg.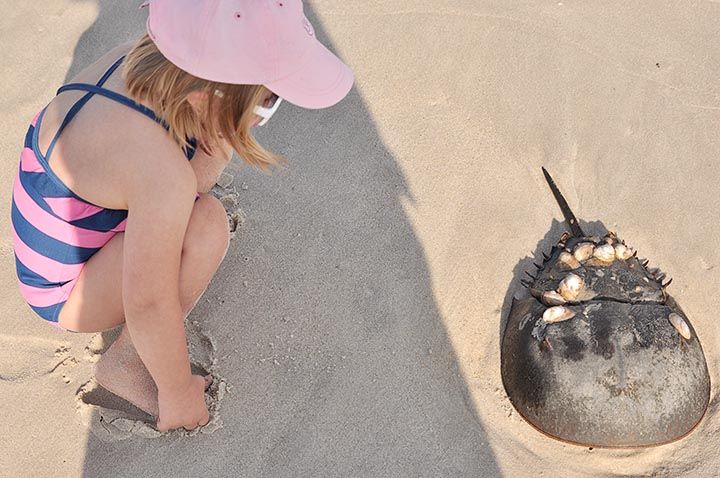 Most of all I'm going to forgive myself for not being a better mother and wife.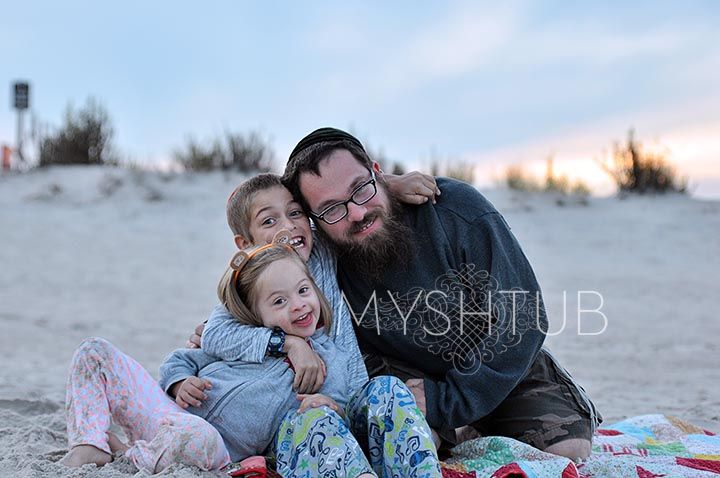 Its on my mind constantly from the moment I wake up  until I hopefully fall asleep. It takes a toll and the worry, guilt, and regret are showing in small little lines under my eyes. But this year I'm going to work harder to forgive myself.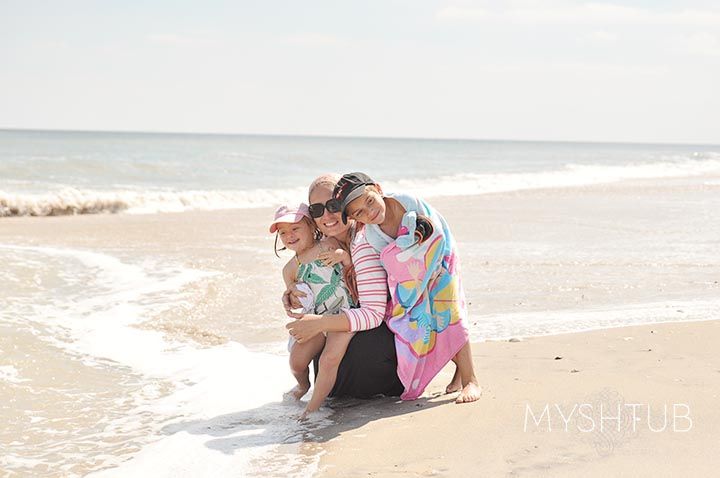 I'm wishing all of you an easy fast. May you find your own peace and forgiveness. May you let the BS go and let more of the good stuff in. May you find a way to tell yourself its ok I'm trying, and to move on. And all of you should be sealed in for an amazing new year with all the blessing and good stuff that you daven for. You deserve it, damn it I deserve it. ( I will use nicer words, I will use nicer words)
And may we all celebrate next year in Yerushalayim with Moshaich, Its time Hashem!
__________________________________________________________
Want more about our fall camping trip? Please check out my article on Kveller.
11. 09. 2014
I had big plans this year for Rozie's fifth birthday. I was going to make her a beautiful party for her and her friends. They would frolic around like little pixies, enjoying all that I had created for them. I would then share with all of you a touching story about our little girl turning five, and how she changed us in so many ways. I would tell all of you how the party was like a dream, and there is nothing more beautiful than celebrating your child. But this is a real life and I am not selling rainbows and unicorns here.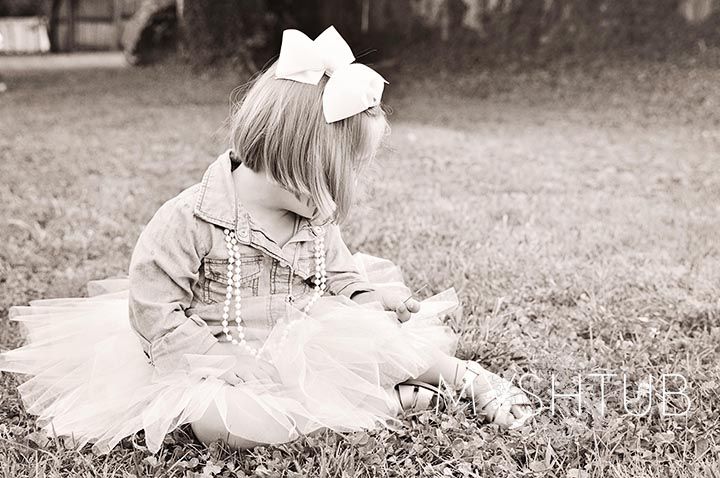 Rozie was excited about her party for days, it was all she could talk about. I kept it small and only invited friends from her class. I spoke to her a little bit about what the party would look like but really I did most of the preparations when the kids went to sleep, my first big fail.
I went with a tutu kind of sparkly theme. Rozie loves ballet and anything with sparkle, so I thought how could I go wrong? Oh let me count the ways….. When the day of the party came Rozie was beyond excited and patiently waited for her friends to show up. When her first friend arrived she bounced with joy and quickly invited them in. I had made tutus for all the little girls, and bow ties for the boys.
Her friends were excited to put on their tutus and join in with the festivities. At this point I asked Rozie if she was ready to put her tutu on (I  had made her an extra special tutu that was a bit fuller and more detailed than the ones I made in bulk). Rozie looked at me like I had lost my mind, and said to me " I really don't like tutus, they feel funny and itchy." Fail number two. But this was just a small thing and I quickly let it go. I mean really no big deal, so she doesn't like tutus now, and I only designed her entire party around them. I can deal with this, but it didn't stop at the tutus. When she saw her cake she began to cry " I wanted chocolate cake, I like chocolate cake with strawberries, not this cake." Fail number three.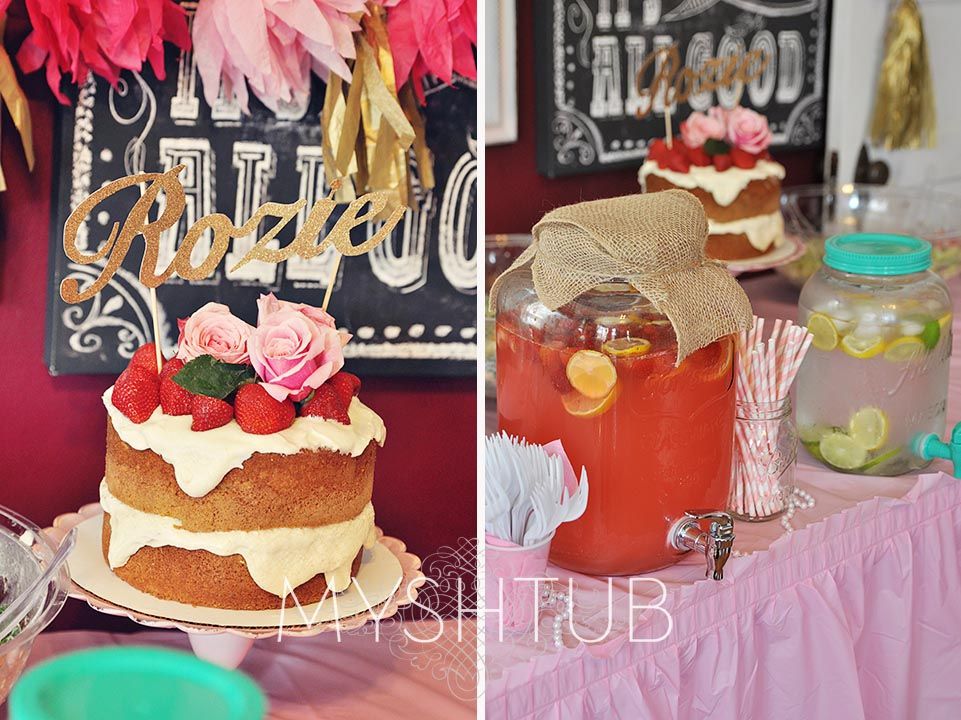 Once again we recovered because her friends were all there and friends fix all wardrobe malfunctions and cake disasters, unless too many friends show up.  Now for all the friends that are reading this I want you guys to know that Rozie loves each and everyone one of you with all her heart, but when I squished all of us in my dining room it became a sensory overload for her. Fail number four.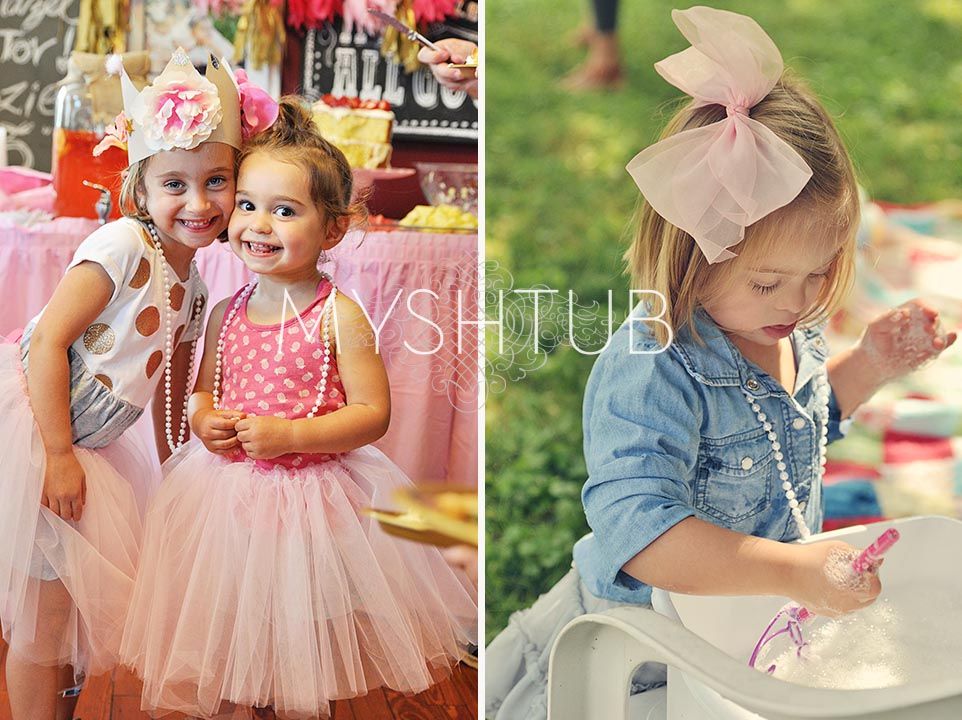 Rozie is not sensory sensitive for the most part, but there are certain times and things that will set her off. Crowds are one of them. I found Rozie in the other room on her trampoline totally avoiding the party. I brought her upstairs and had a talk with her. We agreed to move the party outside where it wasn't so overwhelming, and from there things went great. We had bubble wands and funny picture props. She ran and played with her friends in the open air, and finally I had a party win.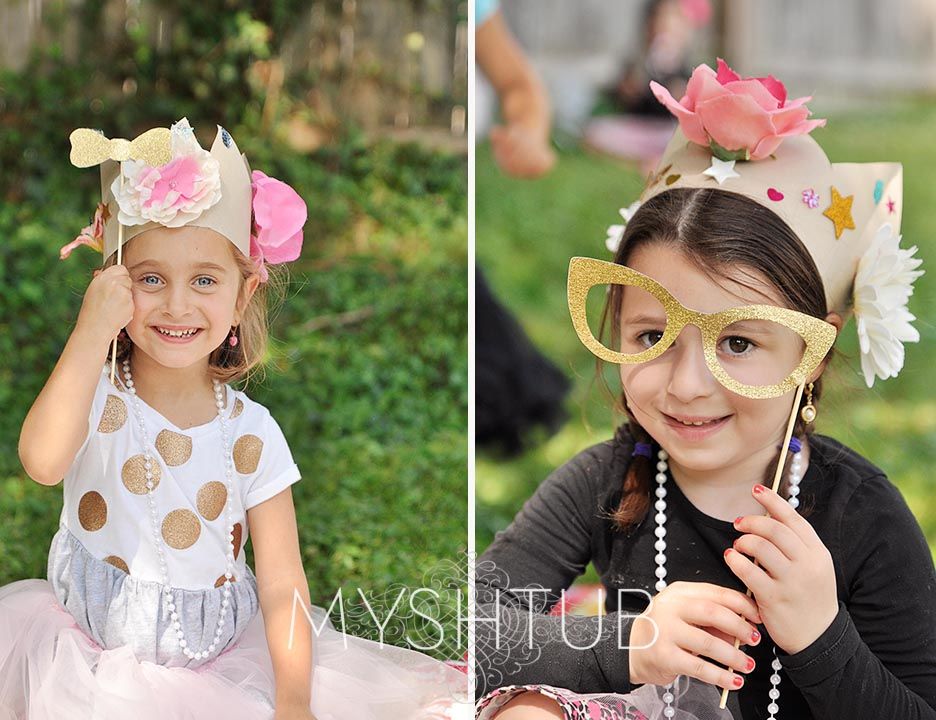 This was a real learning experience for me. The biggest one was my little girl is growing up. She has a mind of her own and strong opinions, and I did not respect that. Two years ago Dovie turned five and he had an amazing Lego party, you can see it here. He helped me plan every detail. Why did I give him that honor, and not Rozie? Yes, I have beat myself up a bit over this, and over analyzed the situation. In the end  I realized that I struggle with two major things with Rozie:
1. She is my baby and I don't want her to grow up. I want to plan parties for her, and dress her any way I want , forever, period. I'm working on this.
2. At times, and this pains me to admit, I let her diagnosis get in the way. I assumed she wouldn't care what kind of cake, and party theme. I truly believed she would just be happy with a party. Honestly I am so disappointed in myself. I know my Rozie has strong opinions, and with age they are only getting stronger.  For those of you following the situation with the bear ears on Instagram, know what I'm talking about. But the truth is I still treat her like she is younger than she is, and that is because developmentally sometimes she is younger. But developmentally sometimes she is not younger,  and to want a party just the way she wanted it with chocolate cake and not vanilla, is so typical five year old little girl. That was my parenting fail, not hers.
( BTW these pics were taken post party, with some major bribing to get that tutu on. Hey at least I'm honest. )
In the end the party was great and I still see remnants of it on the playground at Cheder. One little boy wears his bow tie everyday. I saw the pearls I gave out with the tutus, on another classmates brother, lol. But this has been my five year old lesson. This is growing as a special needs mom. Every year I learn new things and make new mistakes. I'm sure I'll make plenty more, but trust me, darn it, I'll never make that girl  vanilla cake again. Lesson learned.
Happy Birthday my sweet and opinionated little Rozie. You have grown into such an amazing little girl who surprises us every day with your antics. You have brought such a light to our home and we wouldn't change you for the world. Who knew the little baby born unexpectedly with Down syndrome five years ago would be one of our families greatest gifts. I thank you Hashem every day for her, you knew exactly what our family needed.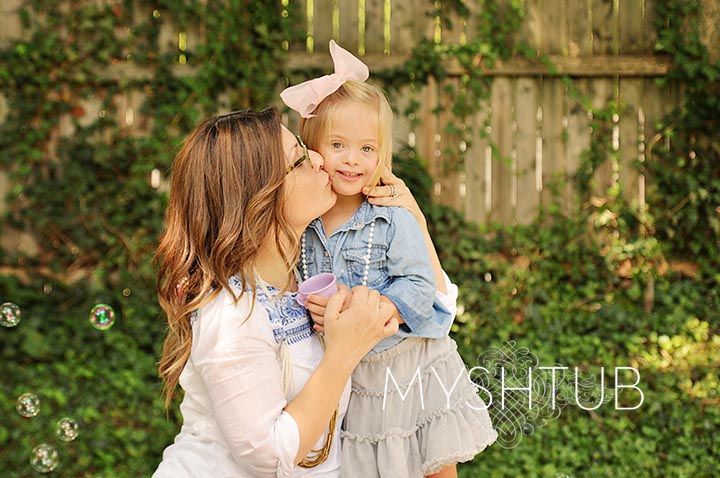 03. 09. 2014
And Summer is officially over…..so sad. Did you guys know that we don't really have seasons in Arizona, and we also don't change our clocks. This whole seasons and fall back spring forward thing is really messing with my system. Needless to say it happened if I like it or not, and today was the first day of school for my two little ones. It was a bit surreal: 1. Because the summer flew by 2. This honestly was a hard summer for me, and with everything going on I just didn't have the patience I should have for my kids.  For the first time I felt relieved to send them off happily to school.  I went home and got some well needed rest.  It's what it is and there is always next summer.
Thank Gd my kids love love love their Cheder ( school), and ran through the doors with fresh school supplies and new backpacks on like it was their job. Seriously they didn't fuss or pull on me, they went in and pretty much gave me the international symbol of get the blank out of here mom we got stuff to do. What can I do school is back in session.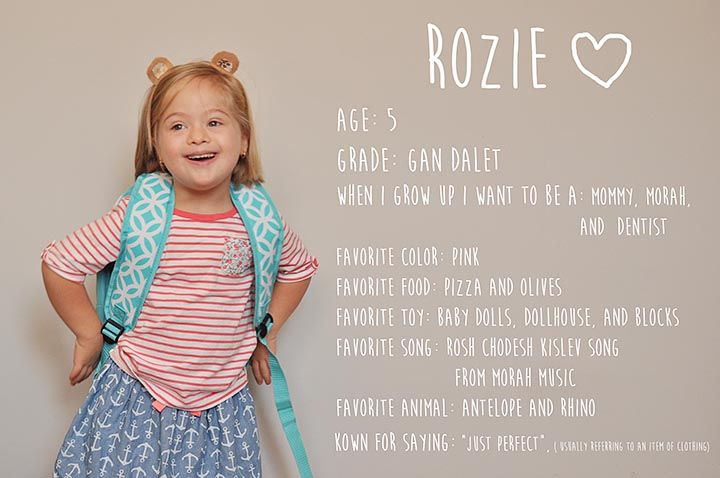 I will have to say is that I am thankful a million times over that I decided to prepare in the beginning of the summer for fall. Little did I know that early planing would literally save me in these last few weeks. I bought backpacks, new shoes, school supplies, and uniforms all in early July. B"H B"H
I even bought Rozie Yom Tov shoes a month ago , so I wouldn't stress. She is a real hardball about shoes. "What do you think of these, Rozie?" " Ummmmm, nooo."( insert valley girl voice here)  "How about these?" "Hmmmm, ummmm nooooo." This goes on and on for about 20 or so pairs, until we find the perfect pair that is usually encrusted in layers and layers and layers of sparkle and sequins. "Ummmmmmm, Perfect!"
Yup that is my Rozie.
My Dovie is easier but he has his things too. He is allowed to wear light blue Polos or Oxfords for his uniform shirt. He will only wear the long sleeved blue oxfords with the button down collar, and sleeves rolled up in the warm weather. He looks absolutely adorable so I'm ok with his look.
* And yes for those of you wondering, especially my Instagram and Facebook followers. Rozie has taken on bear ears as her newest look. I don't know why or what the logic is, but first thing in the morning the ears go on. Its her new signature look.
How was your first day of school?
Did I mention I enrolled in an art class? Yes I  feel like I'm going back to school too! I cant wait it starts next week, and its been almost 10 years since I've taken one. Wish me luck!
29. 08. 2014
Disappointment is something we all must learn to endure and grow from, but it still hurts and pinches in all the wrong places. My kids know disappointment I'm sure your kids do to, but I often fear my kids feel the pinch of it a little more than the average. It pains me.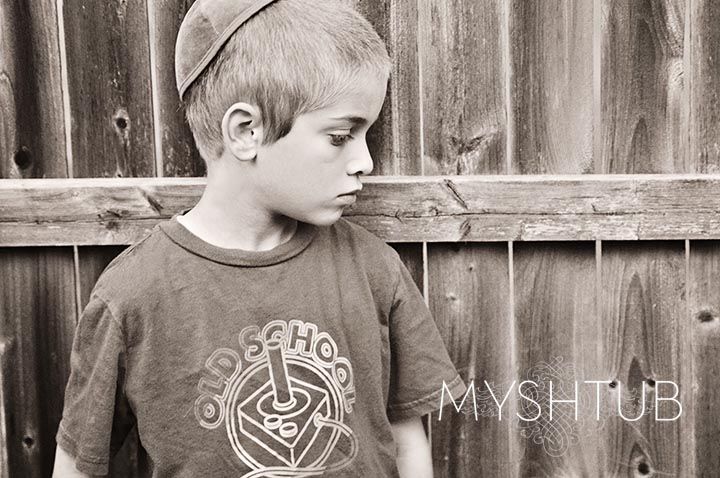 This week we were ready to leave on our long awaited beach camping trip. My Rozie had been drawing pictures for days of her on the beach with her baby dolls. My Dovie was planning and talking daily about everything we were going to do and see. I personally couldn't wait. The morning of our trip as we packed a few last minute items into our camper, I looked at my husband and with very little breath in me I whispered, "I'm not feeling so well." I hadn't been feeling well for awhile, but I thought it would pass. I didn't feel sick, just not well. Kind of weak as if I had been fasting. Needless to say I let it build up, and on the morning we were leaving I could no longer catch my breath, and I could barely stand. We went right into the infusion center and the nurses who know me well looked at my pale face and immediately went to work. I thought for sure the Lymphoma or the Leukemia was back C"V, because this is how I felt last time I was sick. It's an unexplainable sickness, where you don't feel sick like the flu, you just feel an all-over bad.  Quickly my blood results came back and the nurse sat down next to me and looked me in the eye. " You are critically ill right now, we are so thankful your husband called, you have extremely low platelets like you are bleeding out from a wound." But I had no wound, no bullet holes, no horrible gash. It was all too weird, and obviously the trip was cancelled.
Instead of basking in the sun and watching my kids run along the seashore, I received two blood transfusions and a lot of iron. Instead of breakfast on the camp stove, and watching the sun set on the beach, we watched video after a video in the long hospital hours. We ate tuna sandwiches and drank a lot of soda. My kids cried a lot, and so did I. We were all devastated, sad, and worried. And most of all disappointed with a capital D times a million. I looked at my husband and I said to him " How do we fix this, how do we heal their sad little hearts?"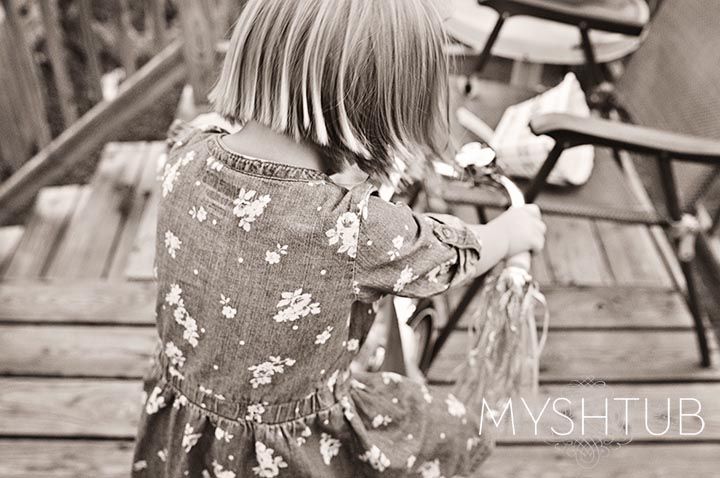 I know it is silly and a bit selfish, but kids don't get it. They don't understand that its only a camping trip and there will be many more, and my kids unfortunately have had their plans cancelled way too often because of my illness. I think this was their last straw. It sure felt like my last straw.
So how do you teach the lesson of disappointment, and most important how to move on. It doesn't matter if you are dealing with something big and constant like we are, or just the regular punches in life. One way or another our kids will feel let down and we the great and mighty parents have to handle it. So how do we do it?
1. Acknowledge and show empathy, again and again. Sometimes in life their just isn't a magic fix, it sucks but that is life, so listening and understanding is the next best thing. My Dovie was the most hurt in our situation. I held him and told him how I really understood how he felt. I felt the exact same way: angry, frustrated and sad. I told him it was more than ok to feel those things, that it was important to feel those things. This is acknowledging his feeling and emphasizing with him. The key for this to work is not to make him feel bad for his feeling. If I said to him, "What is wrong with you? It's just a camping trip, look how sick your mommy is?" Or even saying something like, "Can I buy you a new toy? Will that fix it?" This doesn't fix it and it takes away the tools to teach him to feel his feelings and learn to move on by himself. A shiny new toy will only fix the situation for about 5 minutes. Kids are smarter than that.
2. Give them something to look forward to.  In our house we use an actual real genuine paper calender that you write on with real genuine pens. I like to mark all the great things we have to look forward to. This first day of school, when Mel will come home for Shabbos, Rozie's birthday party. This gives them something visual and concrete to hold in their hands. I let them mark the days off as we get closer to fun days or big events. I discovered this when my kids use to cry endlessly when their big brother would go back to yeshiva after a vacation. We started marking and counting down to his next visit. Now when my kids feel that sadness they bring the calender down themselves and ask if I could mark everything coming up, from birthdays to dentist appointments, they don't care. Just something to look forward to.
3.  This last one is more for older kids. My Rozie is usually good with the above two, but my Dovie is turning 8 this year and he needs a little more. The first two steps are still very important, but he questions and ponders more why things happen the way they do, and this is where we involve Hashem. The other morning we were running horribly late. I was losing my mind trying to get everyone out the door, once we got in the car I drove a block to discover an accident, and we were stuck. There was no way we were making our appointment. I sighed threw my arms up and said " Hashem I got the message thank you, we are not suppose to be there, I get it." My Dovie was completely baffled by this and wanted me to explain. I told him that in life Hashem runs the show and there are times that even though it doesn't feel like it, he knows best and if we are suppose to be here in traffic and missing our appointment that is where we were suppose to be. We may never know why, and that is ok, but getting to that appointment wasn't in Hashem's plans for us that day.  I wasn't sure if he understood, because honestly this is a hard concept even for an adult to grasp and internalize. I know I'm constantly struggling with it.  A week later we were in Walmart and the store did not have one thing I needed. I pushed my cart around feeling frustrated and annoyed mumbling some choice words. My Dovie looked at me and said, "Hashem we get it. You sent us all the signs, we are just not getting the stuff today, you have your reasons." I think he grasped that concept just fine.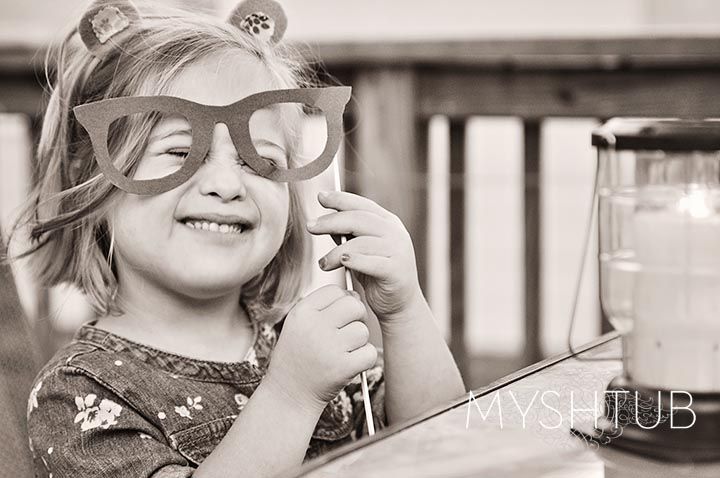 It is now Thursday and I have been to the hospital everyday since Monday, the day we were suppose to leave. I have many more visits ahead of me. My husband was able to be with me the entire time B"H because he already had the days off from work for our trip. I am so thankful for that. My kids came and spent a lot of time with me, and luckily the cancer center is well equipped with kosher food, art therapist, and fun stuff for kids to do. We rescheduled our trip in a few weeks, and put it on the paper calender. The kids will miss a few days of school, but I think everyone will understand. The big brother is coming home tonight after a summer away working in a camp, so that is currently the talk of the house. The disappointment of the trip has worn off and we've moved onto bigger and better things. I'm still a little sad and feel a somewhat raw from the entire ordeal. My health had been so good and this just threw me for a loop. They are not sure why this happened, but they do know it wasn't C"V cancer coming at to bite at me again B"H B"H. I'm pretty sure soon I will move on too.
14. 08. 2014
As the summer is quickly closing in on us. AHHHHHHH! We are trying to fill the time with as much fun and crafts as possible. Our annual beach camping trip is coming up and we are making a belated birthday party for Rozie. Its like we are in a last minute cram session and we have to get it ALL in !!!!!!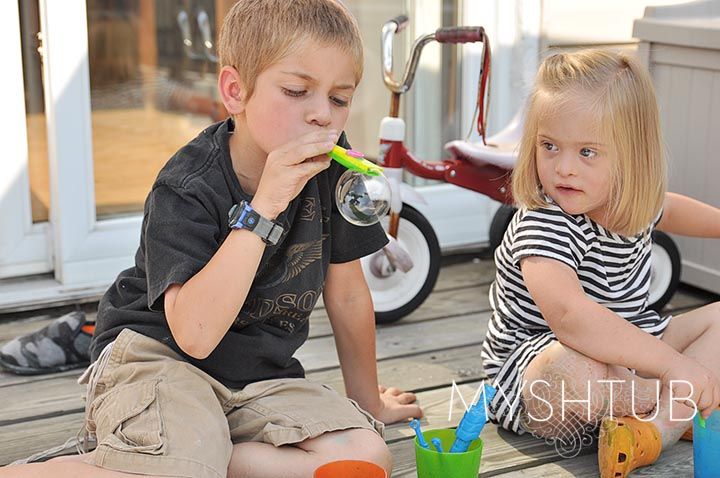 Our latest craft was so much fun. I have seen bubble painting all around the web, and I have done a more confined in-class version using tin pans, but summer equals going big with art. One of the greatest art purchases I have made is this huge roll of paper from Ikea. It is suppose to go on the easel , but it never ends up there. I prefer to unroll it on the ground and paint on it mural style.  The roll is only about $4.99 and worth every penny.
Bubble and Foam painting:
1. liquid food coloring ( not the gel, it doesn't work, trust me)
2. Bubble solution
3. All kinds of bubble wands and blowers
4. Straws
The process was very simple. I poured bubble solution into cups and added a few drops of food coloring. It can be hard to balance the color and bubble solution. Too much food coloring and the bubbles will be too liquidy, and not enough the color will be too light. I wish I went maybe one drop more for ours so the color would have been a bit brighter, but we loved it anyways. We had a blast blowing bubbles onto the paper. It was so much fun to watch them pop and see the color come alive.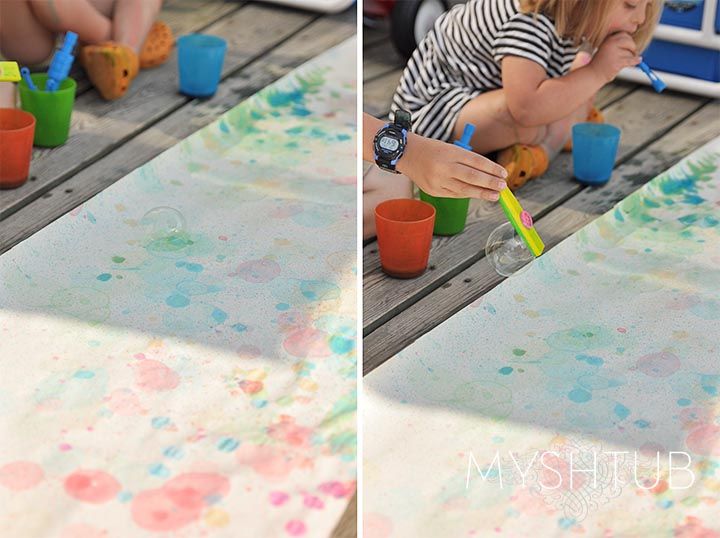 It was also a great oral motor skill for Rozie to work on.
When the solution stated to run out I gave them straws and let them blow to make foam.
Once the foam started to grow to the top of the cup we blew it off onto the paper. Again this was a blast. Its important that only kids old enough to understand not to suck up the straw and only blow, or they will get a mouth full of yuck.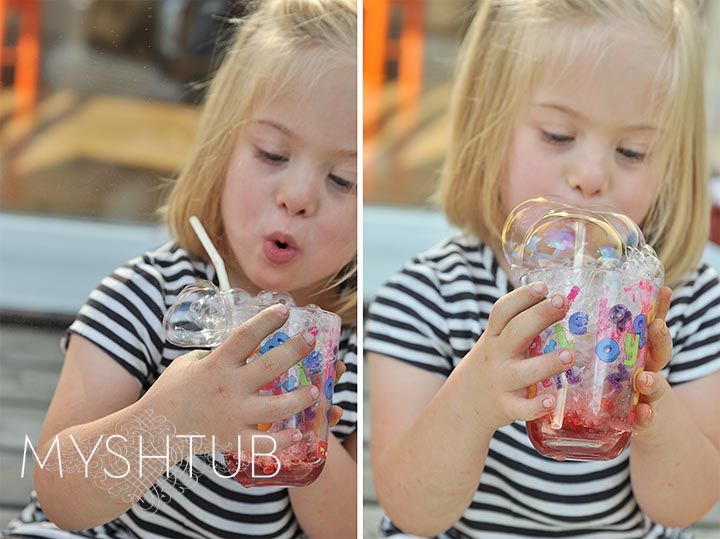 When we finished we hung ours up and the kids loved going over each mark discussing how it happened.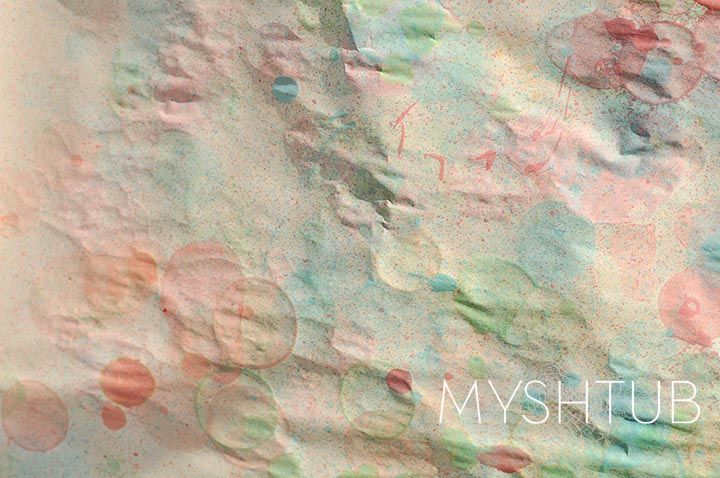 Have fun!
11. 08. 2014
It is still summer, but I can smell school supplies in the air. It's kind of a mixture of new backpacks and number two pencils. My kids are all getting ready to go back to school. Rozie just had a big birthday and turned a shocking five. Mostly shocking for me, but exciting for her. She is older now. As much as I would like to believe that she is still a tiny toddler that just started to walk, she is actually a full blown kid. She has a personality and a strong opinion about things. She loves school and talks about her friends non stop. I relish in this, but also worry.


I wonder if one day her friends will realize that she is a bit different. I wonder if one day as she gets older, whether someone will tell her best friends that they think Rozie has something wrong with her, and not to play with her. These are my fears. Not if she will thrive academically. Not if she can buckle her own shoes, and dress herself in the morning. Not if she if she can ride a bike. Those are small things with simple solutions. What I can't do is make kids see past her differences, and want to be her friend. But B"H in our small little part of the world, her friends haven't noticed, and want her friendship as much as she wants theirs. They run, play, and hug at summer birthday parties. They call for play dates and ask to come over on Shabbos. Rozie is surrounded by friends and love, and because of that she thrives.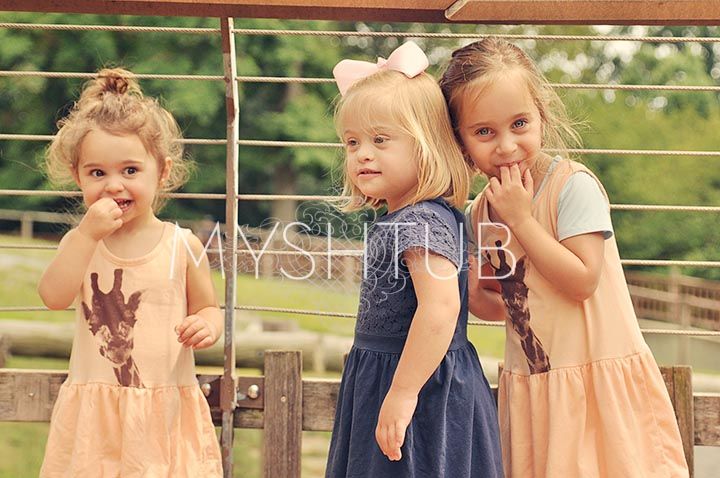 Having meaningful friendships are the foundation of a successful social and academic lives. Many parents mistake preschool for a time that a child must learn their Aleph-Bais or ABCs. They want to push their children ahead when they see their young three year old academically thriving, but don't realize that while the foundations are important, preschool socialization is the key to success. Especially for a child with special needs. Simply it is easier to thrive in life and school when you have friends.


I know this sounds like a given, but when a child has difference, especially one that is visible, it is not so easy, and friendship is not a given. So how does a child with special needs form that ever so important friendship? Simple by showing that little one respect.


Lets say your at the playground and you see a child with special needs, and she wants to play in the sandbox with your child. If you say to the little one:
"Oh look how cute you are, like a little baby! Can I just give you a hug? I love kids like your daughter. They are just so special."
I know this feels like harmless comment, and it's probably from the heart (this is actually a real statement someone said to us), but the parent did not set the tone for a friendship to form between our kids. Instead she made my daughter appear to be something of a novelty like a doll, and not a peer. This happens to us all the time. Here is how that conversation could have gone differently:
"Oh look how cute you are, I love your hair bow.  Chaya also loves hair bows and sparkly things!  Maybe you guys would like to play together in the sandbox?"
This is so simple but often overlooked. By showing your child how our children are more alike than different creates an environment that helps foster acceptance and not pity. Unfortunately in the Jewish community we struggle to include members of our society that are different. We show them pity, but not respect. We offer services and volunteers in the home, but not genuine friendships and inclusive education. We have a long way to go, and many changes need to made, and that can start simply with you.
1. Show people with special needs respect. Do not call young men and women, boys and girls and please don't refer to older children as babies.
2. Respect their opinions and acknowledge that difference does not mean bad, just different.
3. Speak to someone with special needs the same way you do any of their same age peers. And if that child does something inappropriate like hit your child, speak up to them the same way you would any child. I.E. if my Rozie swipes your child's toy, saying to her, "excuse me that is not your toy, please return it" is fine. Saying, "Oh, she doesn't understand, maybe we should just let her have it" is not OK. Trust me, our children are not made of glass. I think my Rozie might be made of actual cinder block, the little bruiser she is.
4. Acknowledge that as our society is becoming more accepting, that people with special needs are doing bigger and greater things. Many adults with differences will marry, live independently, and function as productive members of society. Treating adults and children with differences as anything but is no longer acceptable. Even if it is from a kind place.


My Rozie has her little group. Sometimes they want to all play together and sometimes they don't. Sometimes Rozie is best friends with one girl and the next week she isn't. These are typical preschool friendships, and I am thankful for them everyday. I also daven that as these girls mature they will continue to accept Rozie for who she is, and want to be her friend because they really like her, not because they feel they have to. I pray that as the preschool foundation for socialization and friendship is setting, it will create a positive mold for Rozie's future………. I'm pretty sure it will!
30. 07. 2014
Warm weather= art projects. I know many people like to do cozy crafts with the kids on snowy winter days, but to me all that equals is scrubbing paint off my dining room floor. When it's hot outside I take the craft outside, and when we are done I hose the mess all down. Now that is my kind of cozy. This summer we have been working on some basic art concepts. We started off with abstract painting. At this age kids are often stuck on drawing things, and wanting those things to look just right. It can often become a competition with friends or siblings. I know my kids have come home saying "I wish my drawing looked like so and so's rocket" or " I can't draw as good as so and so." We discussed the idea that art is beautiful in many ways and it doesn't have to be something to be great. I saw the idea on Pinterest to use painter's tape as a paint resit. This can be a bit tricky because it will tear the paper if you are not careful. We discovered that construction paper tore less than flat white paper. On Pinterest they used canvas, but that can be pricey and we wanted to make more than one.
Abstract Paint resist:
1. White construction paper
2. Painters tape
3. Poster paint
4. Age appropriate paint brushes
We did this outside on our glass table. The paint was washable so I taped the paper down directly on the table to prevent it from flying away. The first thing we did was tear our blue painters tape and make our design. Dovie is 7 and able to tear the tape himself. This was a bit of a struggle for Rozie (age 4). I tore strips for her and let her take them from the table, and place on the paper. This was a great fine motor practice for her since it was hard to manipulate the tape from the table, to the paper, without sticking it all together.


I want to stop here for one minute and talk about kid's paint brushes. I want to be clear here, the plastic brushes that come with most kid paint sets are not brushes. Really they are just plastic sticks with a glob of plastic glued on the end. They are hard for kids to use and the never create anything great. I would invest a bit in some nice child friendly brushes for your kids. They don't have to be fancy maybe a $1-$2 a piece in a few sizes, but they are worth it. I teach my kids to care for these brushes, and to wash them and re-shape the bristles properly after each use.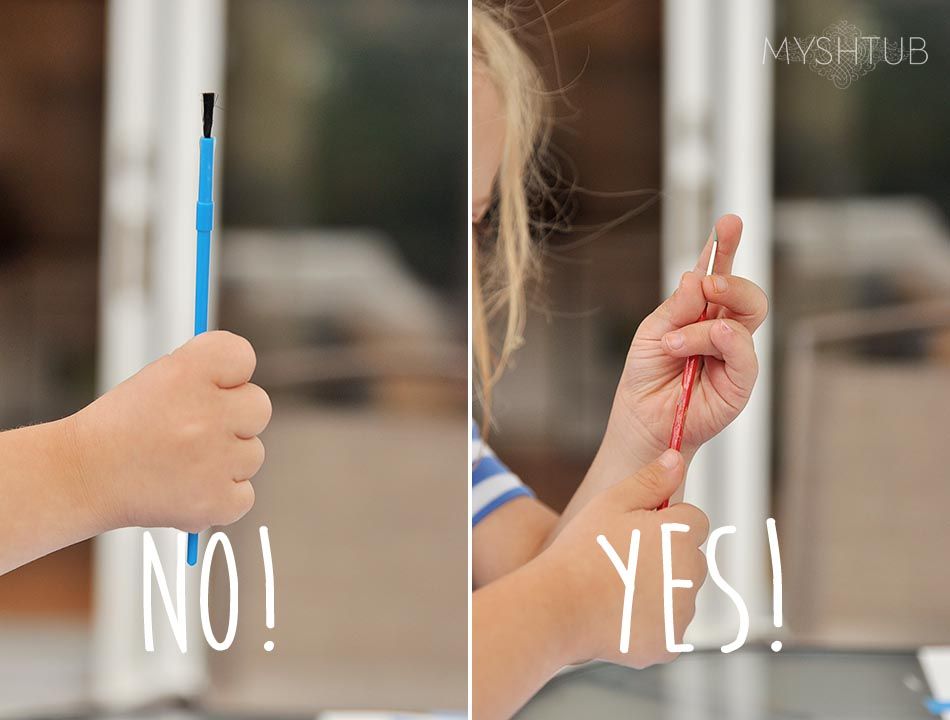 After the tape is on it's time to paint. This is the fun part, but younger kids will ave a tendency to start mixing all the colors together . It feels good to mush and schmear all those colors into one big blob, because of this I often give my kids palettes of colors in the same color family. They can smoosh and mix all they want and the color will not equal brown. For this project we worked with a warm color palette. It inspired a great conversation about warm and cool colors, and why they make us feel that way.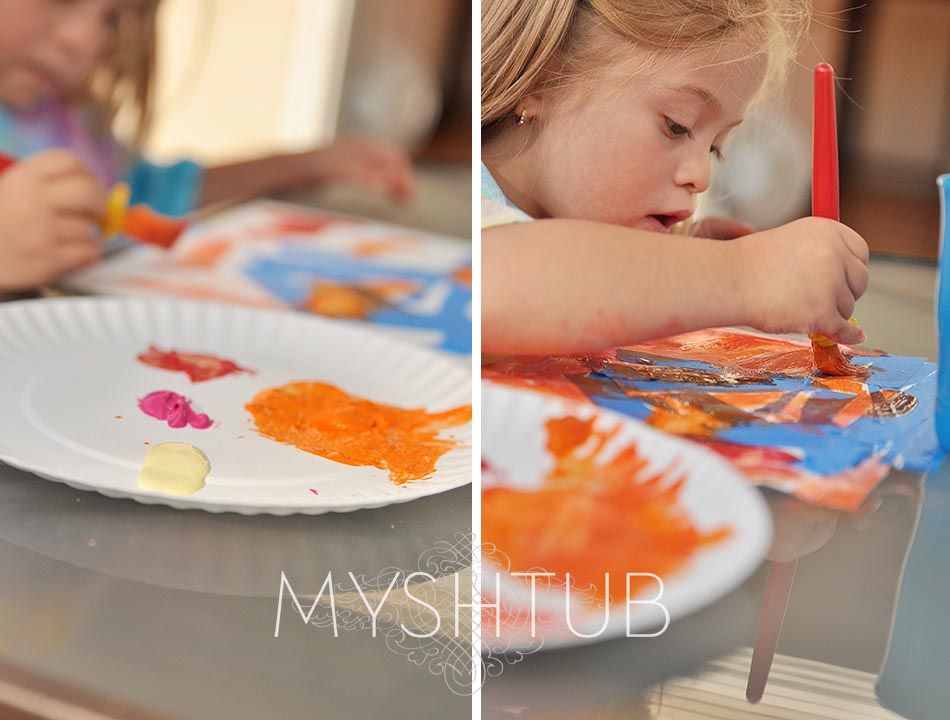 While the paint was still wet we pulled the tape off, it is best done when the paint is still wet. Again this was a great fine motor building skill. For Rozie I pulled up tiny corner pieces so she had something to start with, Dovie did not need help. We made sure to pull carefully and slowly, not tearing the paper.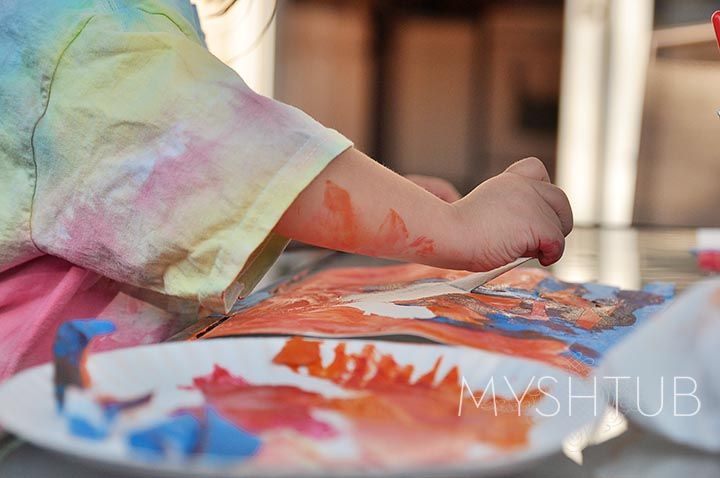 We let our little abstract pieces of art dry while we sprayed down the table and watered our plants at the same time. I thought next time this would be fun to do on a larger scale to make wrapping paper.


Enjoy and let me know how this project works for you.
* I would also like to say that we have no connection to Stevenson University. We got these t-shirts for free at a fair and we use them as our smocks. I know someone would of asked. Now if they said University of Arizona that would be a different story.
25. 07. 2014
I will be completely honest here, today is my birthday, and this is not at all what I thought today would look like. I don't need big parties and huge celebrations, there have been many years that I let my day go by with a simple family celebration. Really that is all I need, but this year it isn't happening. I actually had some big expectations for this year, I hoped for a little more, mostly because this is one of those milestone birthdays. A few years ago we wondered if I would even make it here. We should be celebrating my health, but instead I'm alone….. See my husband has left the country for a few weeks for work, and he isn't home yet. The reality of that is settling in. It has made me realize how alone I am here in this little big city. When I moved away from my family, friends, and everything I knew, I really thought I would make it, but here we are 10 years later and I'm not making it. I live in a town that still feels foreign to me. Its been 10 years but I can not get use to the weather, I just can't. As much as I joke it truly causes me misery. Its 70 degrees here today in the middle of July, and I have a sweatshirt on. This is misery to me, this is foreign. I have made many friends here, but my friends are different. We didn't grow up together, and we all met in the most hectic times of our lives. None of them know today is my big milestone birthday. It's nobody's fault it's actually a great time in our lives. We are having babies and more babies, but we don't have the time to make those sisterly bonds that are formed before marriage and children. We don't have time to remember birthdays, its hard enough to remember our own.
I called my husband in tears and begged him to help. We decided this was the year of change. We have to change some major things in our lives. So we came up with a plan.
1. We have to change where we live, period. Our home is old and it is making me physically ill with constant allergies, it is also toxic in other ways. We are not sure if we are going to stay in the community here or venture out. Hashem will guide us.
2. It was time for me to leave Facebook. For years I used it as my social outlet substitute. Since I struggled so much with real bonds where I lived, I used Facebook as my substitute. I was not delusional, and I knew it wasn't a real substitute, but it was better than nothing. It was no longer bringing me joy, but I needed it because it was often helpful in a mundane kind of way. I will miss that part, but I need joy more. I'm not sure if it will be a permanent deactivation, but for now I'm detoxing. ( The Myshtub page is still open and I will be posting there, but no longer on my personal page)
3. We are going to make some better decisions about our kids schooling, and stop complaining. In general we are happy with our kids school, but there are certain aspects that have been grinding on us, and we are no longer going to let that happen. My husband and I have made some out of the box decisions, and I'm feeling pretty good about them.
4. I need to find something real and substantial to do with my time in the day. The truth is I have time. Not many moms can say this, but I do. My husband's job has put us in a place where I don't need to work. I am so thankful for this on so many levels. Hashem has provided us with this, and I am again beyond thankful. When I was ill I never had to worry about the money coming in or a loss of income. I could lay in bed when the kids were in school, and just heal. It wasn't that easy and it was a rocky road, but I healed. That was just so valuable, but now I need more. My kids are in school all day, my husband works long hours, and I'm lonely. I tried giving over my time and energy to many places, but I ended up being pulled too thin, and was often not appreciated. Sometimes conflicts, and difference of opinions arose. Friendships were lost. You know the saying " no good dead goes unpunished," I lived that. This year I will find something real.
5. I will do my best this year to connect to Hashem on a stronger level. To learn to let things go, and to not let these things break my connection with Hashem.
Last week without a husband and two little kids in tow, I got in my car and went on a road trip. I couldn't dwell on my husband not being here anymore. I checked the oil, water, and put air in my tires. Yes I can do all that and more ( thank you high school auto shop). We decided to head to NY and spend an amazing Shabbos with friends. We went to the Rebbe's Ohel, and spent a few hours there taking our time with each step ( see #5.in my above plan).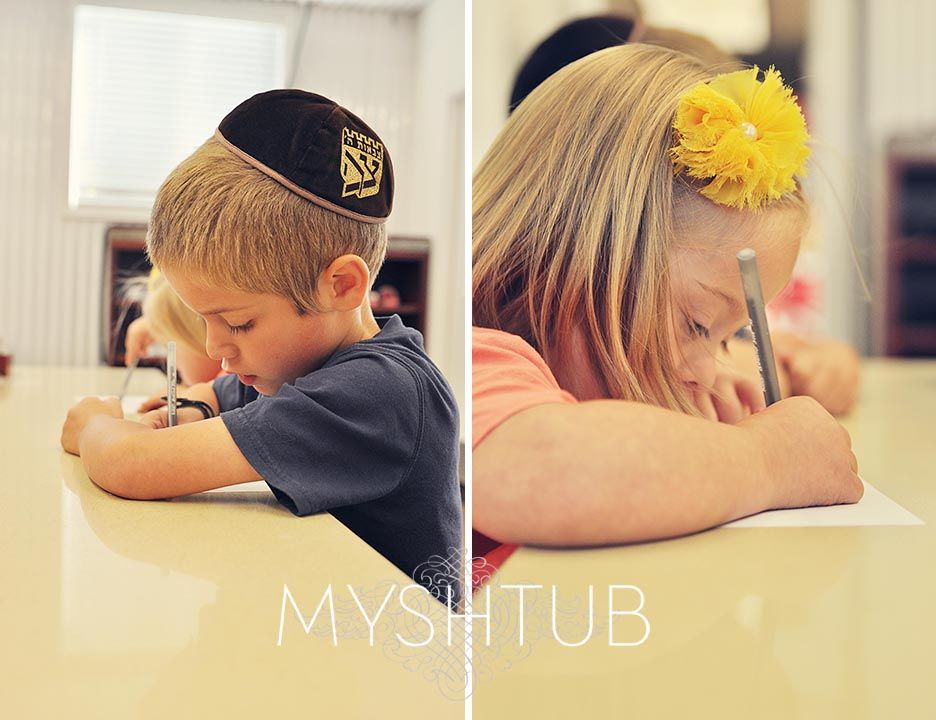 We wrote our letters carefully, and took time discussing what we want to share with the Rebbe and Hashem. The kids were amazing and are still talking about our Ohel visit.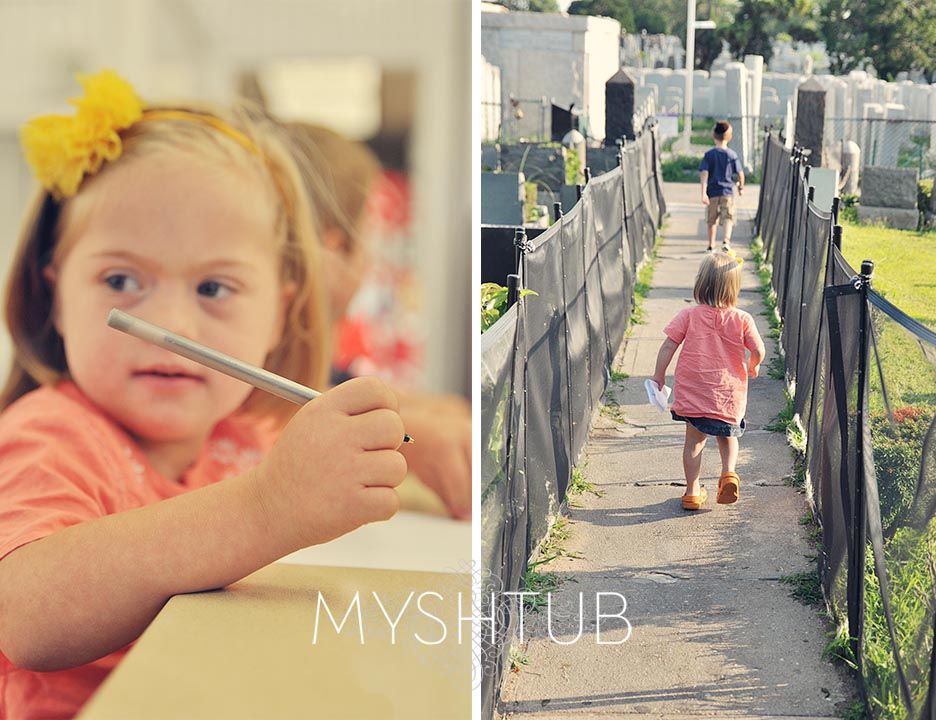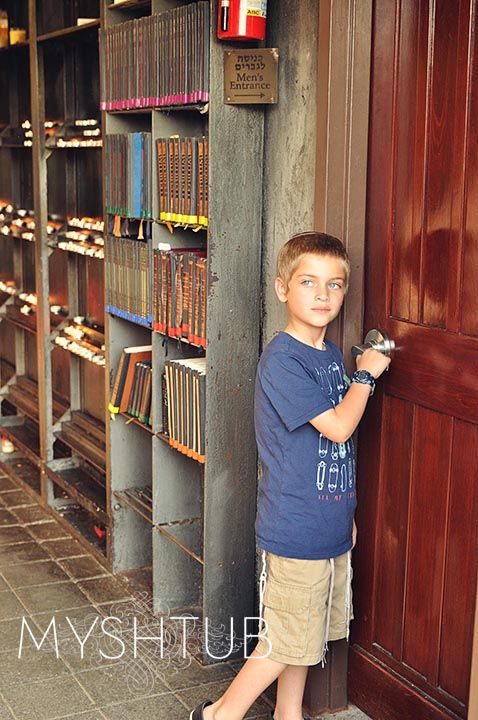 We drove to the country and stayed in a bungalow after the Ohel. It was so stress-free and relaxing. I'm regretting coming home so soon. I don't know why I just didn't stay the rest of the summer.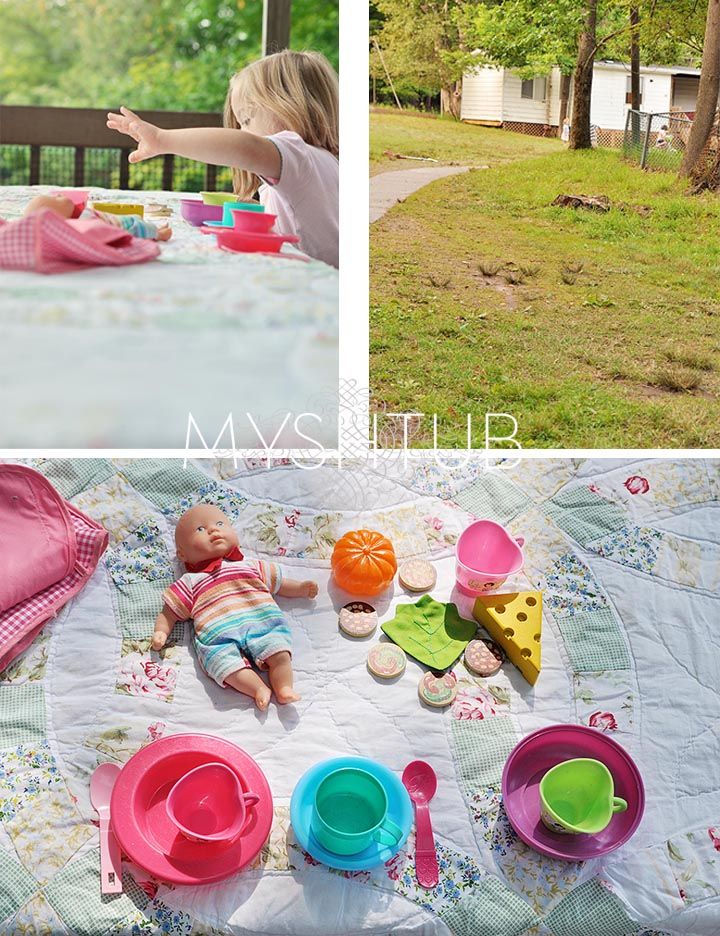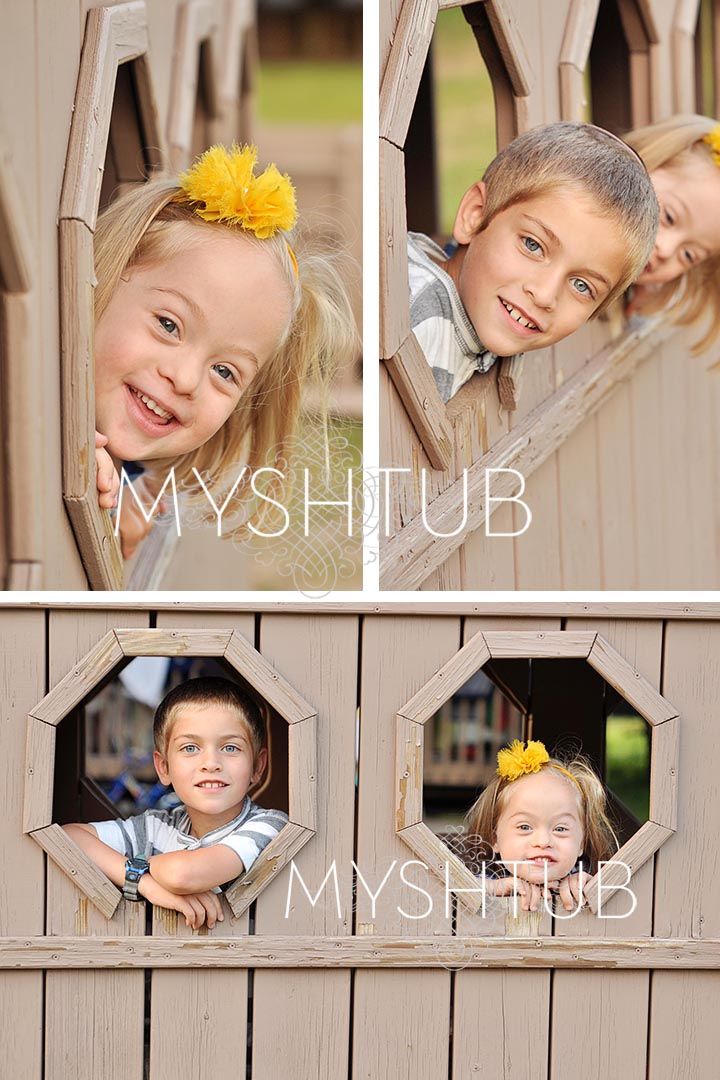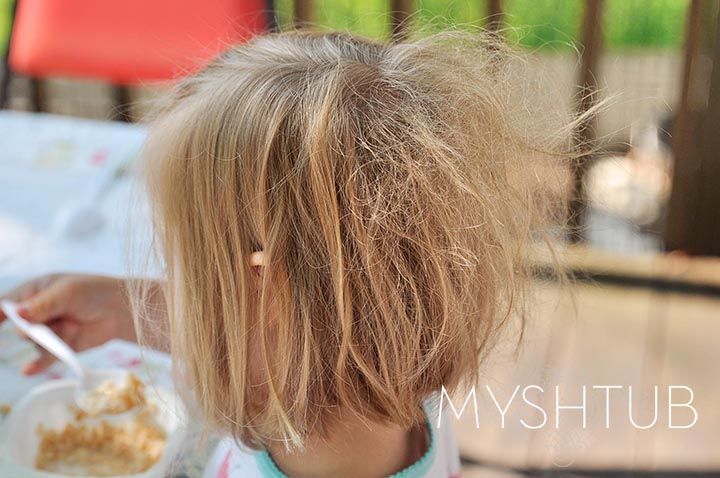 I want to leave you with a special bracha from me to all of you today on my Hebrew birthday. This is a powerful day, the day Hashem chose for your neshama to enter this world. We all have the power of blessings on our birthdays……
May all of you have everything you need, especially your health. May you find comfort and happiness in your own place, and if not have the strength to change it. May all of you davening for children be blessed to have them, I really mean that. May all Jews throughout the word feel safe and not scared. My you find the something in the world that makes you want to jump for joy and scream it from the rooftops. May we all find happiness and merit in our life the coming of Moshiach. We desperately need him to come, and I know I just cant wait anymore.
Have wonderful Shabbos my friends.
20. 07. 2014
We planted again this year in hopes that the deer would let us be. It was going really really well, and then it happened. I woke up to find our 5ft sunflowers, who didn't even have a chance to bloom yet, chomped down to little nubs. Our cucumbers that just started flowering were eaten, but the squash was left alone. I guess deer do not like squash. It feels like such a violation, but its just deer so there is nobody to complain too.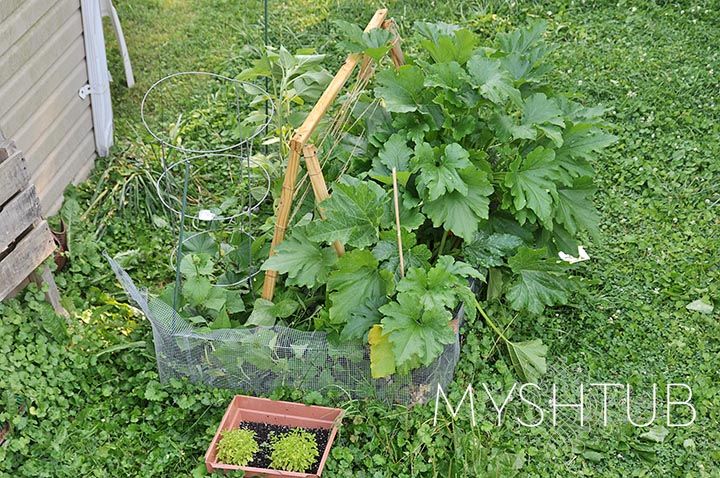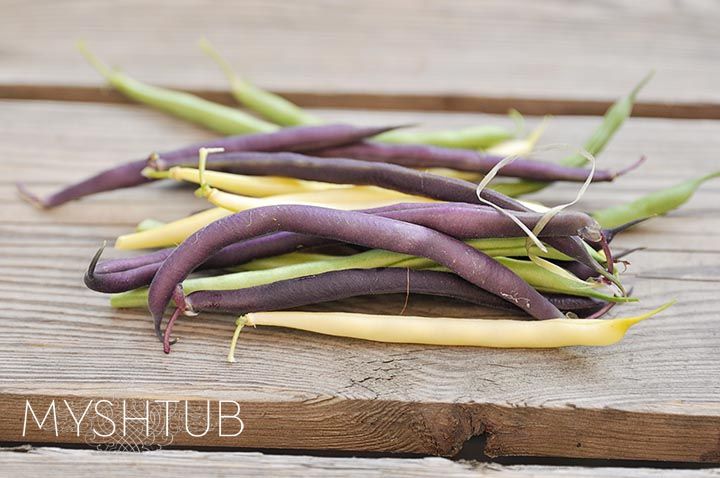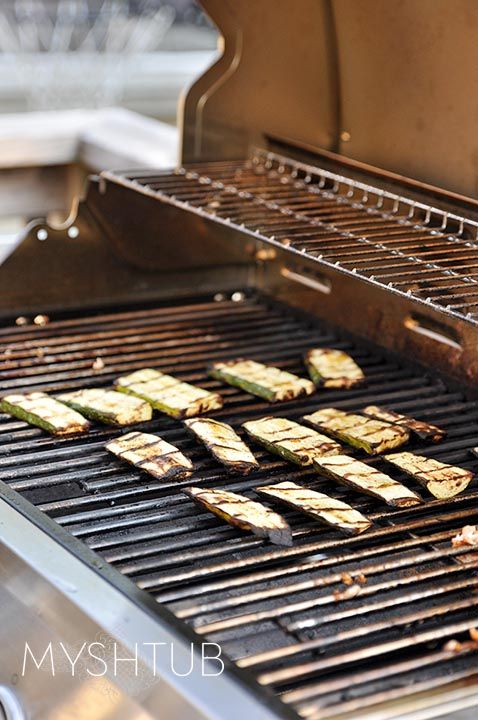 Needless to say we are enjoying the hot, and even muggy weather. I love it. Give me 90 degrees and 100% humidity, hear me ROAR!!!! Long summer nights also equal later bedtime. I just can not put my kids in bed when it is still light out. It reminds me of a Simpsons episode I once saw. The Simpson kids had to stay at the Flander's house, and the Flanders put their kids to bed really early. Bart was all upset, and when he looked outside from his bed the birds were chirping, the sun was out, and the entire neighborhood was at play. I learned a valuable lesson from that episode. I will not be a Flanders I will be a Simpson, so I let my kids run and play even though it is pretty late. LOL, I know I'm pulling at strings here to take a valuable lesson from the Simpsons, don't judge. Truth be told I just love dusk when the weather is still warm and the lighting bugs start to come out. Everything just sort of glows.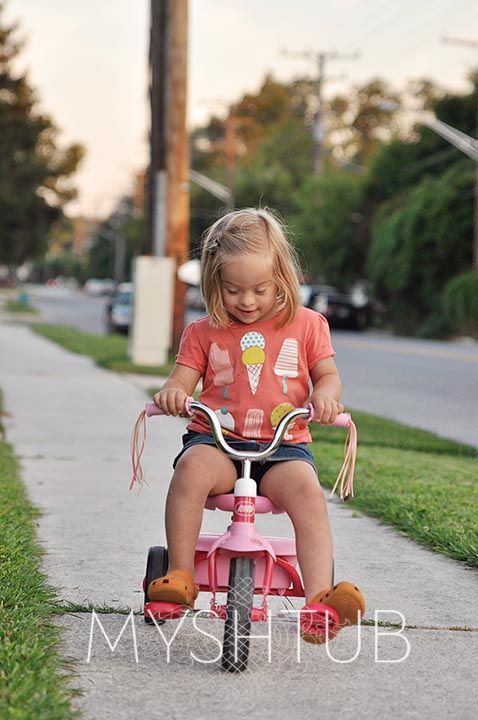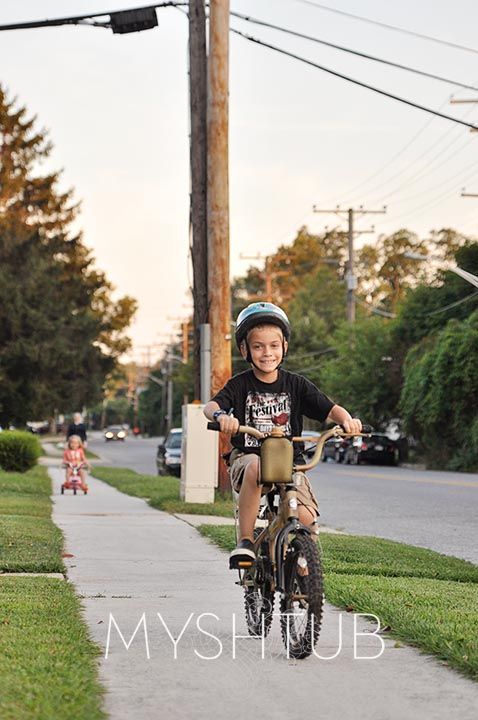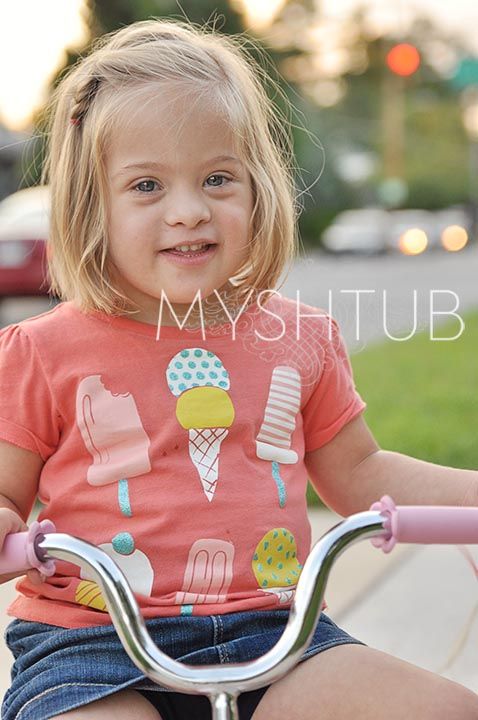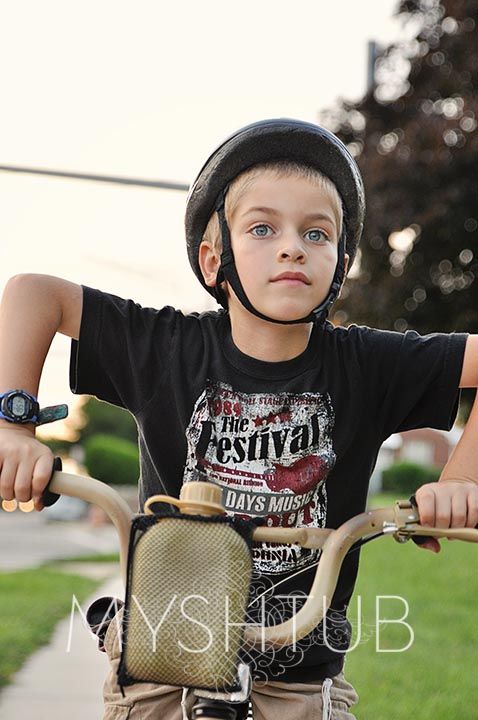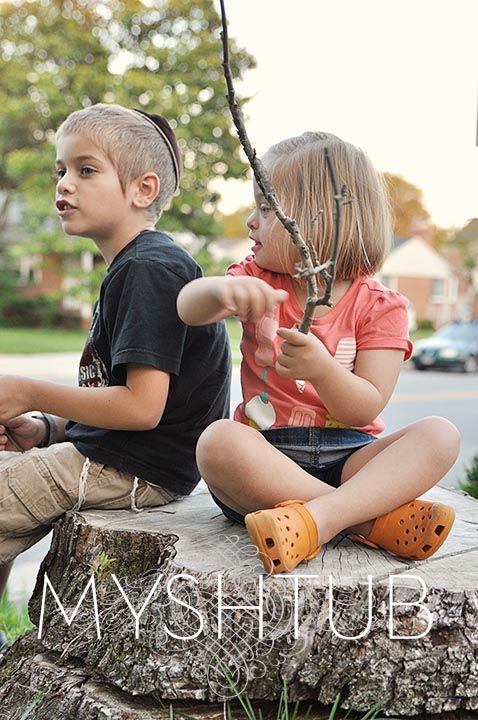 I'm counting down the days for our annual summer camping trip. What are your big summer plans?
18. 07. 2014
I can not believe I have been away for this long. I have never taken this long of a break, and I have seriously considered if I want to continue as a blogger. B"H my health has improved greatly, and I want to spend less time in front of the computer and more time in the world. I want to plan parties and big events. I want to photograph families and their sweet little ones. I want to sit outside and enjoy the hot weather. I want to go on trips with my family and spend more time at the beach. Through all my wants blogging just doesn't feel so important anymore. I have used this blog as my personal therapy for years, and I have shared with all of you the ups and downs in my life. I needed to vent and let my fears and pain out, but lately I just haven't felt the need. Things around here have become blissfully boring.
Needles to say I have decided to come back. I still want to share and hopefully I will find something new to inspire me. For now I think we should do a MyShtub catchup:
We decided to go away for Pesach. I was healthy enough to make the 12 hour drive, and we thought why not. I have this new system where I figure out how to go away for Pesach on a budget, and stress free. I will write a full write up closer to next Pesach.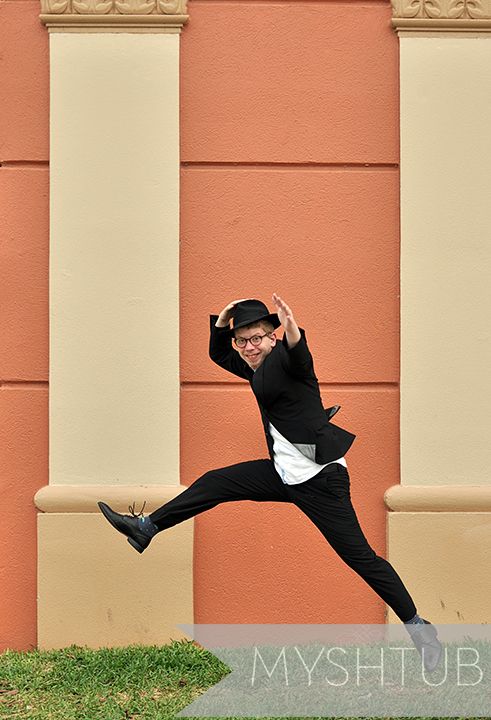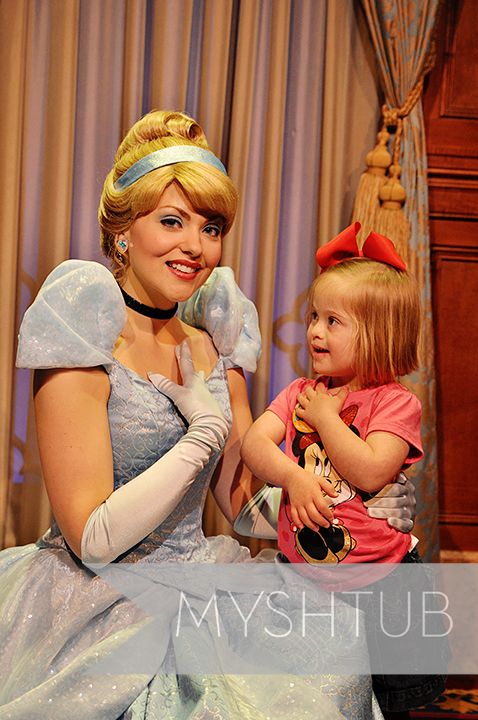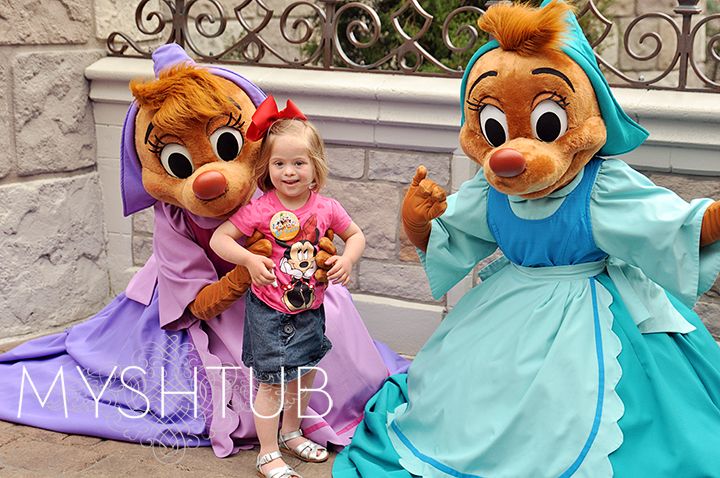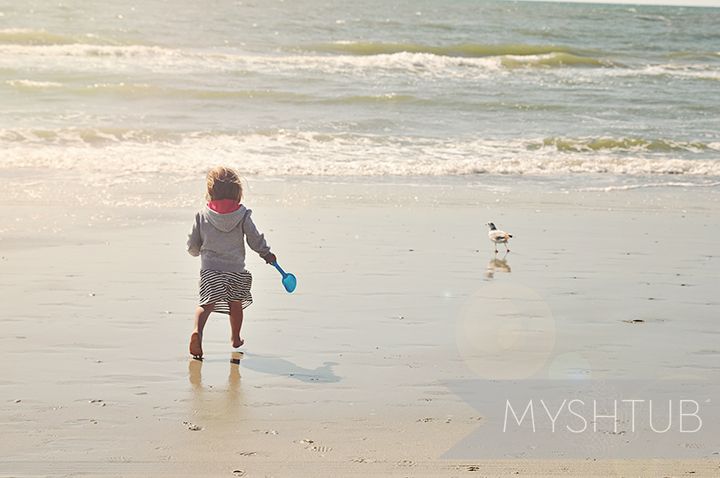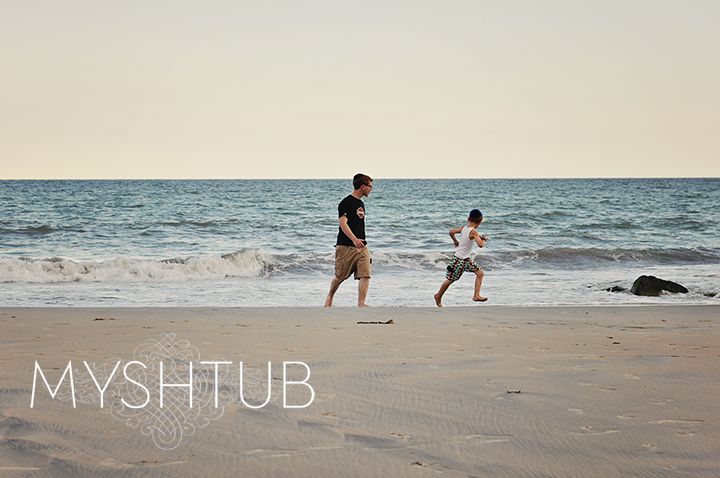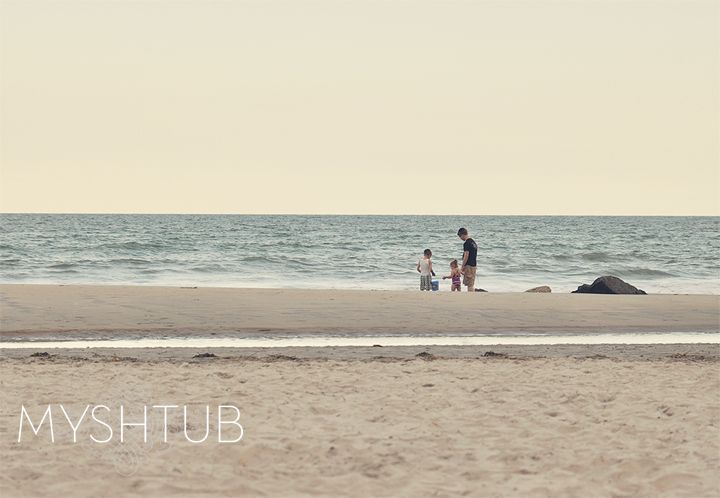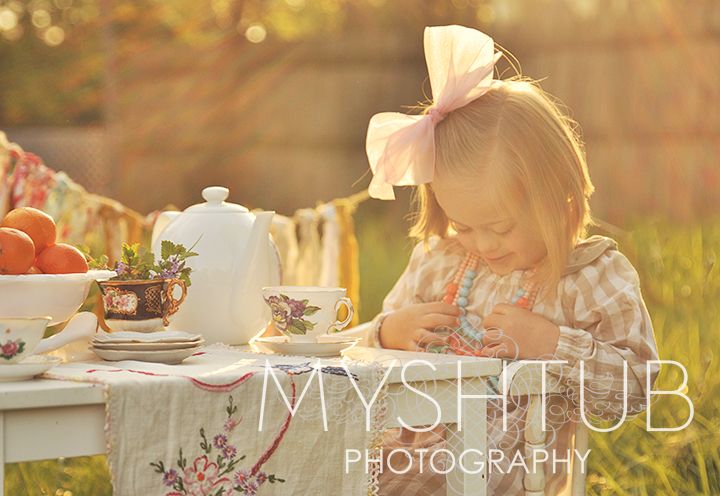 For the most part we have just been living it up. I could try to play it down and say oh nothing exciting has been going on. But that would be a lie. I have been literally basking in the glow of health. I want to travel and spread myself thin. I want to enjoy all the places I love in abundance. I just want want want. This is what happens when some much is taken away from you. You realize what is important. To me its running my toes in the sand, and watching my kids chase the waves. Its the feel and smell of salt air. Its the smell of popcorn mixed with excitement at a Disney park. The smell of sunscreen and chlorine on a hot summer day. These are what bring me joy, and I plan to shamelessly soak them all in.
What is your joy, what do you just soak in?